Y'all… I'm broke.
Like beyond broke.
To be honest, I've always been broke but I've been managing with the help of my trusty credit card. But now… my credit card is about to break too. Ha ha! I
I know
my lack of income and mounting credit card bills are no laughing matter, but I try to laugh about it to keep from freaking out.
I recently compared my monthly income (after tax deductions, social security payments I'll likely never see, and benefit contributions) to the total amount I owe in bills on a monthly basis. It was an eye opening experience and extremely depressing. The amount of money I take home each month is downright pathetic (actually below poverty level), and I'm pretty embarrassed to admit that considering I have TWO college degrees.
I am constantly looking for new job opportunities but haven't been successful finding anything worthwhile in this economy.
I've
even entertained the idea of moving somewhere new.
I've
searched for jobs in other cities because jobs in SC pay ridiculously low wages. I honestly hate the idea of moving because of the enormous hassle of everything else that comes along with it—the physical act of moving, meeting new people, finding a place to live, etc. Something has to change soon. I guess you could say I'm stuck in a rut and don't like settling for less than I feel I deserve!
In an attempt to ease some of my worry/frustration,
I've
become almost fanatical about organizing my condo.
I've
been throwing out (or donating) stuff left and right—almost a bag a day!—and selling items on eBay that could potentially make me a few bucks.
I've
been surprised how well some of them have sold. I sold a tank top for $25.00 that I purchased from J Crew's factory website because it was too big. You can actually buy the tank top from their website right now for less than that! I can't complain about making money, but people really should do their research. Almost everything
I've
sold has been purchased with the 'Buy It Now' option. I might be pricing them too low!
After
I've
sold an item, I keep the money I make in my PayPal account (unless I need to transfer it to my bank because I'm low on funds) and use it to make purchases on eBay for things I might actually need.
I've
needed a nice pair of jeans that are short enough to wear with flats. I scored a pair of 7 for all Mankind jeans for $9.99 and paid for them with the money I had made from selling items. Look at me being all frugal and stuff!
I've been taking before/after pictures of my organization endeavors and working on them room-by-room or area-by-area. I'll share them with you when I'm finished …if I remember.
I've already organized my bills, important documents, manuals, warranties, and such.
Here's a picture of my pre-organized filing system: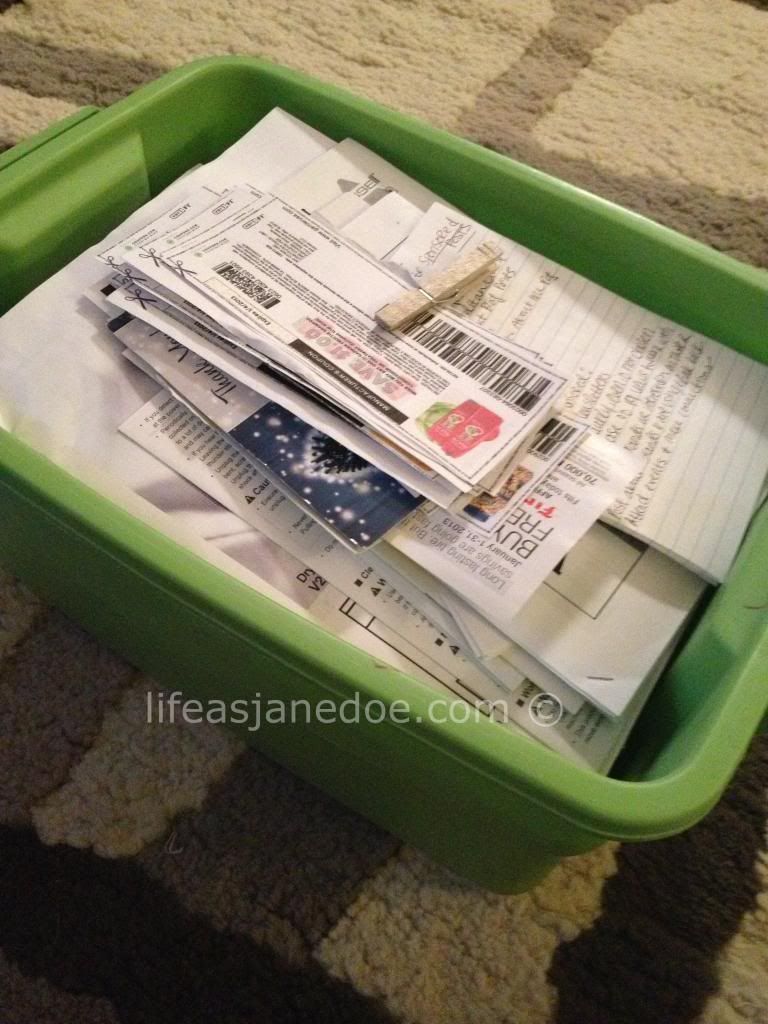 It was a mess, obviously. I pretty much just threw everything I thought I needed to keep in this one Tupperware box. I had to dig through it every time I needed to find something important. It was a hassle.
And here's a picture of my newly organized filing system: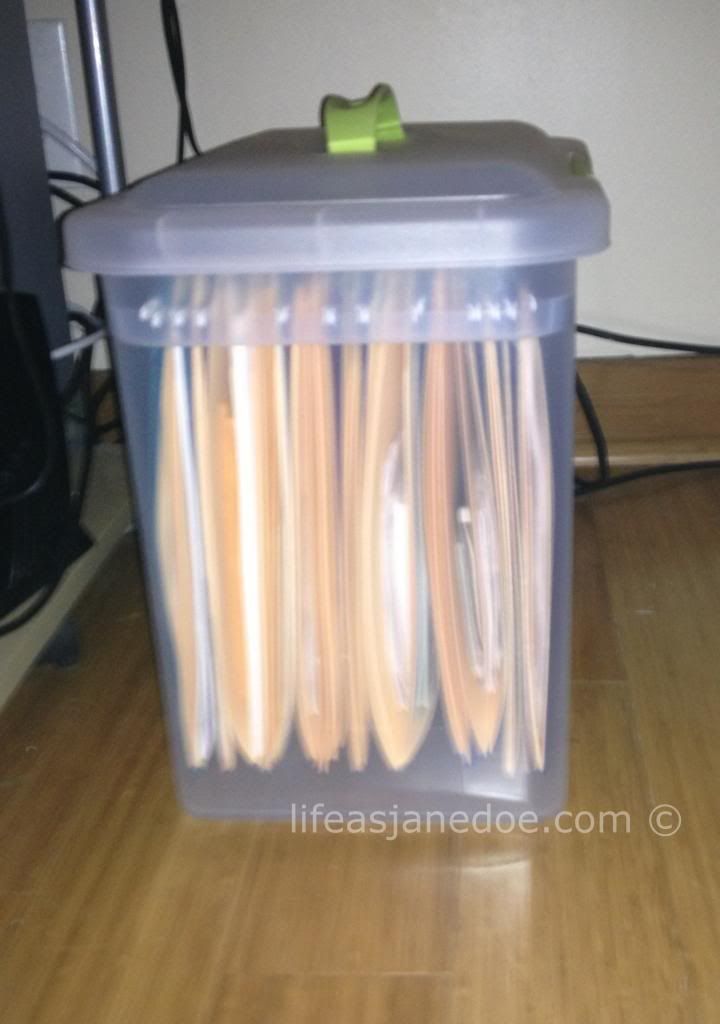 I don't think I have to tell you things are much easier to find now.
Here is how I categorized my documents:
Hanging Files
(in alphabetical order, of course)
1. Appliance Manuals
2. Blog
3. Coupons
4. Finances
5. Home
6. Medical
7. Electronic Manuals
8. Paper Supplies
9. Reference Materials
10. Taxes
File Folders
Appliances:
1. Bissell Vacuum Cleaner
2. Bosch Washer/Dryer
3. Furniture
4. Shark Hand Vacuum
5. Small Appliances
Blog
1. Business Cards
2. Notes/Ideas
Coupons
1. Grocery
2. Health/Beauty
3. Retail
4. Services
Finances
1. Action
2. Account Terms & Conditions
3. Check Carbons
4. Extra Retail Cards (reward cards like CVS, Bi-lo, Michael's, etc)
5. Receipts (I only save big item receipts unless I could potentially return it.)
6. Utility Receipts
Home
1. Baxter
2. Check Copies (that my roommate gives me for rent)
3. HOA files
4. Important Documents (social security card, birth certificate, passport)
5. Repair Receipts
Medical
1. Assessments
2. EOB's and Receipts
3. Prescriptions
Electronics
1. Camera
2. DVD Player
3. iPod/iPhone
4. Laptop
5. Printer
6. TV - Master
7. TV - Bedroom
8. Wii
Paper Supplies
1. Labels
2. Business Envelopes
3. Large Manilla Envelopes
4. Printer Paper
5. Printer Photo Paper
6. Resume Paper
7. Small Manilla Envelopes
Reference
1. Account Passwords
2. Bill Due Dates
3. Birthdays
4. Contact Numbers
5. Takeout Menus
6. Work Information
Taxes
1. Benefits
2. Charity Donations
3. Work Reviews
4. W2's and Tax Returns
Aren't you proud?