As I mentioned briefly, I finally got an invite to Pinterest and I have to admit I am completely addicted. It is insane how many hours I can sit here browsing that website. So, of course, I am linking up with
The Vintage Apple
for "Oh, How Pinterest-ing Wednesday!" If you haven't already been sent an invite and want one, comment with your e-mail address and I will gladly send you one!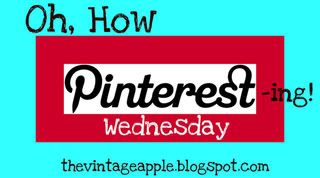 S'mores Milkshake? Yes, please!
Absolutely MUST HAVE this necklace.
How cute is this Bible cover?
I'm too obsessed with desserts.
But, someone needs to make this for me for my 30th - which is one month from today! EEK!
I am getting my hair colored soon and these pictures are my inspiration.
As much as I know I will regret going darker (because I always do!) ...
my roots simply start showing their ugly face far too soon for my budget.