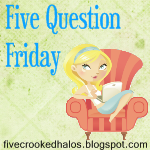 1. What movie could you watch over and over again and not get tired of?
Shag... and I do watch it over and over and over again...
2. What's your biggest pet peeve right now?
It isn't really a pet peeve but something that is bothering me right now is my lack of girlfriends. It isn't that I don't have a lot of girlfriends... but they have all moved away or work weekends and I never have anyone to do fun girly stuff w/ on the weekends. It makes me sad.
3. If you had to describe your best friend in five words or less, what would you say?
1. classy 2. honest 3. beautiful 4. constant 5. amazing
4. If you did not have to worry about money or go to school what would you do for a living?
Hmmm... if I didn't have to go to school for it... probably a psychiatrist.
5. What is your one "splurge" item, that you will always buy, no matter the cost?
There is nothing I buy no matter what the cost. Unfortunately, I work for the State and don't really have the ability to splurge like that. BUT, some of the most expensive items I do happen to own are handbags and jeans.
NOW, my question to you. Yesterday, I painted a ceramic plate for one of B's friends who is visiting us this weekend. I have one for myself that I painted with a Clemson design... he liked it and wanted me to paint him one for the Miami Hurricanes. I thought that maybe I could make some money doing this... ya know, maybe sell them on Etsy. The plate itself cost roughly $10 at Wal-mart and I thought maybe I could sell them for $20 or $25. I could design them however the customer wanted... with a team theme... or simply paint their last name using colors of their choice. My question is... would you buy them? Do you think they are cute? I don't want to flatter myself by thinking they are cute just because B says they are... they are not perfect by any means... but I think that is what makes them great... they are custom made... imperfections and all! :) Any advice you have would be awesome!