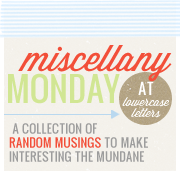 1. I have
no idea
what I am going to throw together for New Years Eve as far as outfits are concerned! We just decided that we were going to have people over because there really isn't much going on anywhere else... and I hate to spend New Years at a crowded bar. Any ideas?
2. I think I am going to try to tackle a cake pop recipe. I'm sure it will probably be a disaster but I am at least going to put forth an effort.
3. I'm getting pretty excited about it. & the champagne punch!
4. I have been the laziest person alive the past few days. I have only left my house for very small periods of time. Christmas Eve I left to go to my brother's for a few hours. Christmas Day I left to eat a happy hour dinner at Burro Loco ($3 pizzas, you can't beat that!). The day after I left to pick up lunch at Zaxby's. Today I left to get an oil change and drop off a prescription at Target. It's pathetic really. Don't get me wrong... I have enjoyed the laziness of it all & the time off from work but I am starting to get a bit stir crazy!
5. It actually flurried here a bit yesterday. Everyone was so excited that it actually snowed the day after Christmas... that is pretty much unheard of around here. I would have been a little more excited if anything had actually stuck the ground and if it lasted for more than 30 minutes. It snowed a lot more inland than it did here. But honestly? I am 100 times more excited about our forecast looking like this:
You mean I get to enjoy 68 degree weather on New Years Day? I don't believe if I do. I hope that is an indication of a warmer year!!
6. I have been enjoying the fireplace on these chilly days though. Bax has too!