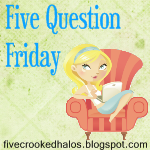 1. How long does your Christmas tree stay up?
I typically take it down on New Years Day but I've already started the process of taking it down this year. I've had too much time on my hands for one... and for two... we are having people over tomorrow and I'd rather have all of the Christmas stuff put away so that I don't have to worry about it later. I've already taken down the ornaments and B is taking the lights and tree down tomorrow.
2. Do you have plans for New Year's Eve?
Yes, I am hosting a small get-together. It will be just a few of us but I'm making all this food and I'm getting pretty excited about it. Plus, B got a firepit from Bass Pro Shop and it set up outside already.
3. Do you have any New Year's resolutions?
I've never really been one to make New Year's resolutions... if I have in the past, I'm sure I've never kept up with them. Sad, I know.
4. How did you spend New Year's Eve when you were younger?
I don't remember ever really celebrating New Years Eve when I was younger... except maybe shooting fireworks off with the neighborhood kids.
5. What was the best way you've ever spent New Year's Eve?
I think my favorite New Year's Eve 2002. I was living in Dillon at the time but me and Chapell, her boyfriend at the time, a few of his friends, and her cousin Whitney all made a trip here to the beach. We rented a hotel suite, went out to dinner, and spent the evening celebrating at Broadway. It wasn't anything extraordinary but I remember having lots of fun!
Chapell, myself, & Whitney on New Years 2002