Go check out The Undomestic Momma's blog today for a great giveaway!! Tru Colors has great outfits for sporting events & come in Tru team colors
:)
Awesome!!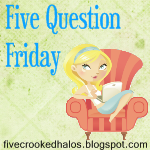 Time for FIVE QUESTION FRIDAY:
Link up & play along!
1. What Christmas song do you loathe?
White Christmas... I have never had a 'White Christmas' & probably never will... therefore, I don't wanna hear about it. :)
2. Do you and your significant other cuddle at night or sleep on opposite sides of the bed?
Sleep on opposite sides of the bed. If it were up to Brian, we would cuddle... weird right? But, I'm not the most affectionate person in the world & I need my space when I sleep.
3. Have you ever had surgery?
Yes, I have had my wisdom teeth removed.
4. When do you typically have your holiday shopping done?
I am always a last minute shopper. Last year I tried to do the whole Black Friday thing & it was a nightmare. Never again, I tell you!
5. If money were not an issue (and you HAD to pick something), what would your ultimate luxury item be?
Louis Vuitton Speedy Handbag