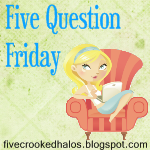 1. What do you listen to while driving?
I always listen to Kidd Kraddick in the Morning on my way to work. Other than that, I listen to my iPod or scan the stations until I hear something I like.
2. What is your least favorite thing about Fall?
The time change. Once it hits 7, my brain is telling me that it's 9 & soon time for bed. It takes everything for me to stay awake past 8 on a "school night" when it gets dark at 6.
3. What does your dream house look like, inside and out?
My dream house sits out on a country road but w/in 10 minutes of a city. (I couldn't be too far away from a mall! Or fast food restaurants!) It would be a log cabin/wooden type home with a large back yard and a wrap around porch w/ a swing and rockers. I would like the porch to be raised up high and overlooking a lake or river. I would want all the bedrooms downstairs, along with the dining room and kitchen, and the upstairs to be a large loft-like open space to put a huge, comfy couch and big screen TV. I would want all stainless steel appliances, of course... a kitchen with a large island... granite countertops... skylight windows... hardwood floors... dark cherry wooden cabinets... huge walk-in closet in the master w/ a jacuzzi tub.
4. Would you ever own a minivan?
Probably not. I don't think I'll ever need one. I only want 2 kids at the absolute most. I might pimp a Lexus SUV though :)
5. Do you wash new clothes before wearing them?
Most of the time.