LINK UP! 8)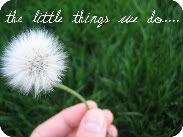 1. My favorite thing about this week has been that my work week was only two days long. We got Friday off this week and I took off Tuesday for a doctor's appointment. It was very nice.
2. The weather this week has been very hot. I got spoiled last week with the low humidity and this week has gone right back to pure mugginess.
3. The last (interesting) item I received in the mail was my monthly 'Family Circle' magazine. As you can see, I don't get much interesting mail.
4. The last movie I saw was 'When in Rome.' I was afraid it was going to be ridiculously cheesy, but I actually thoroughly enjoyed it! Plus, Josh Duhamel isn't too bad to look at either.
5. If I could be doing anything I felt like today I would have done it. B said this weekend is my weekend because last weekend was full of testosterone. However, I could think of nothing to do. Go figure! So, we've been lazy around the house today.

6. As a teenager I was a spoiled brat to my mama. I wish I had been nicer and heeded her advice.


7. I wish I could trade lives for the day with myself about 15 years ago and soak up every possible minute I could with my granddaddy.