I am playing along with Carissa today in Miscellany Monday!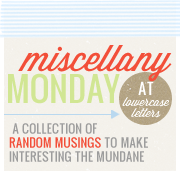 1. I am hosting my very first giveaway this week! I am hoping to get some new FABULOUS followers :) You can enter by becoming a follower and you can get an additional entry by commenting on ANY post that you mentioned my giveaway on your blog. You can read my previous post titled Giveaway Details for more information!
2. I know it has somehow become the "cool" thing to do… or it is more acceptable now than it used to be… but it is a major pet peeve of mine for people to hang up the phone without saying bye! I was raised to be polite & it is polite to say good-bye!
3. I am really struggling with not having any "me" time lately. I was without a job for several months and had all the time in the world to do "me" stuff and be alone, etc. I guess I just got so used to having so much time to myself that I feel like I don't have ANY now. I do have Friday's off during the summer, but so does my boyfriend. (Brian: do not take this personally if you are reading this. I love spending time with you.) I just never realized how much I needed time to myself before now. Any ideas on how to juggle work and relationships AND "me" time?
4. I am so bummed that all of my favorite TV shows are done for the season. What am I going to watch now?? What are some of your favorite summer TV shows?
5. I am so excited about the weekend of June 5th! Zac Brown Band is coming to Charleston & they are my FAVORITE! !! I have been dying to see them for like 2 years now, and my boyfriend's brother who lives in CHS went and picked up our tix the other day!! SUPER, SUPER EXCITED!!!