I wanted to participate in both of the Friday themed posts today - so I am! I thought I would just combine them together instead of making two separate posts. Make sure you participate by clicking the adorable buttons!
From
Just Me and My Life
we have
Five Favorite Pictures
(and there will be more than five...)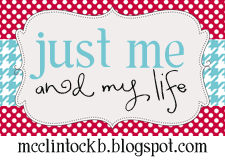 Me and a few of my favorite girlfriends.
We had a sleepover one night (old school style) and it was too much fun.
We met this guy at our favorite redneck bar one night.
At the time, we thought his tattoo was of the Pi symbol.
Obviously... it is his initials JT.
I worked hard catching this bouquet at Brian's best friend's wedding.
His ex-girlfriend's current boyfriend caught the garter and had to put it on me.
Needless to say, I don't think she was too fond of me.
This is a picture of me and Brian with his sister and her husband at the same wedding.
I love them!! I wish my eyes weren't red... so I could keep it in color.
A picture of my daddy back in his prime.
I love the fact that he looks like a pimp. HA!
An older picture of me and my best friend, Chapell.
I'm not really sure why - but we don't have that many pictures together.
A lot of people say we look a like - do you see it?
A picture of me and my girls from "back home" the night I graduated college.
My favorite picture of my nephew and two niece's the day Lindsay was born.
Ben - Leigh Anna - Lindsay
This last picture really sums up my life on a daily basis - 3 Men & a 'Lil Lady.
Myself, Brian, and our two roommates - Jeff & Landon
R KELLY
I know there are probably not a lot of people out there who are big R Kelly fans because of all his trouble with the law. I'm not really even sure what all he did (I try not to think about it) - I just love his music. I don't think I could pick a favorite song because I honestly like them all... but a few of them would be - I Can't Sleep, Down Low, Half on a Baby, When a Woman's Fed Up, Fiesta, and Ignition. I guess you could say listening to R Kelly is one of my guilty pleasures.